Chemical name: 2-(3, 4-epoxycyclohexyl) ethyl triethoxy silane
CAS NO: 10217-34-2
Product structure: C14H28O4Si
Formula: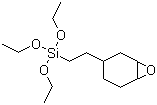 Technical indicators:
1, appearance, colorless transparent liquid, color number ≤30
2. Specific gravity: 1.006g/mLat25°C
3, refractive index, n20/D1.426
4. Acidity, neutral, PH=6-7
5. Content, ≥98.5%
Danger sign:

safety term S26;
Main use: this product is a kind of epoxy functional coupling agent, provide a stable storage and not yellow adhesive promote effect, suitable for polysulfide, polyurethane, epoxy, acrylic sealant adhesion promoter, and adhesives can significantly increase the sealants and adhesives inorganic material such as glass, metal, concrete, adhesion and water resistance.
Product packaging: 200kg iron drum or plastic drum;1000 kg IBC barrel;20 mt/Tank