Chemical name: isopropyl tridecyl (dodecylbenzene sulfonate) titanate
CAS NO: 61417-55-8
Product structure: C57H94O10S3Ti
Formula: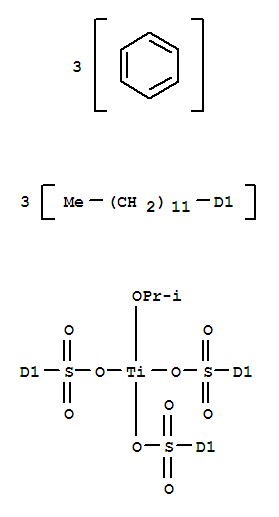 Technical indicators
1. Appearance: reddish brown transparent liquid.
2, density, 1.08 g/mL at 25 °C(lit.)
3, flash point 93℃.
4. The flow point is 10℃.
5, decomposition temperature 177℃.
Danger signs:

safety terms 26-36/37/39
Main application: this product is mainly used for filling and modification of general fillers in resins. It can also be used as thixotropic agent for epoxy resins and polyesters.Applicable to polyethylene, polypropylene, polystyrene, polyvinyl chloride, acrylic resin, alkyd resin, melamine resin, polyester, rubber and most of the polymer.Suitable for most dry inorganic fillers, such as calcium carbonate, talc, kaolinz, wollastonite, glass fiber, silica, titanium dioxide, especially effective for carbon black.The decomposition temperature of the product is up to 290℃, which is suitable for high-temperature products.
Product packaging: 5L, 20L, 210L plastic/iron drums or 1000LIBC drums, or according to customer requirements.