Chemical name: isopropyl trioleate acyloxy titanate
CAS NO: 136144-62-2
Product structure: C57H106O7Ti
Formula: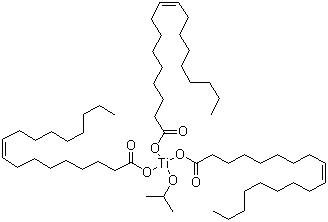 Technical indicators
1, appearance, wine red viscous liquid.
2, density, rho (20℃) :0.934
3, refractive index, n20℃1.477
4. Decomposition temperature, 255℃
5, flash point, 100℃
Danger sign:

safety term S16;S26.S36;
Main application: this product is mainly used for processing calcium carbonate, talcum powder and other inorganic filler filling polyolefin, can improve the mechanical properties of products.Applicable resin: PP, PE and other non - polar or semi - polar polymer.It can be used in natural rubber, butadiene rubber and other rubber products to improve tear strength, elongation at break and tensile strength.When used in coatings, the viscosity of the system can be reduced and the solid filling can be increased.Increase leveling property, at the same time give the coating good wear resistance and corrosion resistance.As the surface treatment agent of inorganic filler, it can deal with calcium carbonate, talcum powder and kaolin to increase the hydrophobicity and dispersibility of filler.
Product packaging: 5L, 20L, 210L plastic/iron drums or 1000LIBC drums, or according to customer requirements.