Chemical name: bis (ethyl acetoacetate) diisobutyl titanate
CAS NO: 83877-91-2
Product structure: C20H36O8Ti
Formula: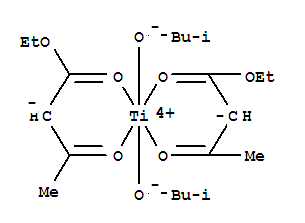 Technical indicators
1. Appearance: light red transparent liquid
Boiling point, 225.4 °C at 760 mmHg
3. Flash point, 91.7 °C
Danger sign:

safety term 43;
Main USES: with the volatilization of solvent in the process of use, this product can cross-link with the substrate and the active substrate in ink and coating, such as -oh, -cooh, -nh2, 0CONH2 and -sh, forming a bridge, increasing the molecular weight, thus improving the heat resistance, chemical resistance, water resistance, dry resistance and other properties.
Product packaging: 5L, 20L, 210L plastic/iron drums or 1000LIBC drums, or according to customer requirements.