Chemical name: Bis (acetylacetone group) (isobutylisopropoxy) titanate
CAS NO: 97281-09-9
Product structure: C20H28O8Ti
Formula: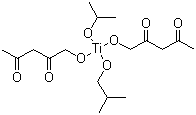 Technical indicators
1. Appearance: light red transparent liquid
2, flash point, 54°C
Danger signs:

safety terminology 24-26-37/39
Main USES: with the volatilization of solvent in the process of use, the titanium acetylacetone can cross-link with the active groups in the linking body of substrate, ink and coating, forming a bridge, increasing the molecular weight, thus improving the heat resistance, chemical resistance, water resistance, dry resistance and other properties.And the resin and the substrate through the titanate bridging action finally make ink, paint adhesion has been improved.
Product packaging: 5L, 20L, 210L plastic/iron drums or 1000LIBC drums, or according to customer requirements.