Chemical name: 2-mercaptan methyl benzoimidazole MMB
Molecular formula: C6H8N2S
Formula: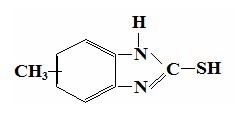 Molecular weight: 164.22
The CAS number: 53988-10-6
Product specifications:
Project

Powder

Dust powder

Appearance (visual)

Off-white powder

At the beginning of melting point℃≥

270.0

270.0

Heating loss %≤

0.50

0.50

Ash %≤

0.50

0.50

Screenings (63μm)%≤

0.50

0.50

Screenings (150μm)% ≤

0.10

0.10

Oil content %

----

1.0~2.0

Physical properties

Density at 20 ° c(kg/m3)

1010

1010
Shape: this product is a grey white powder.No smell, but bitter taste.Specific weight 1.33. Soluble in ethanol, acetone and ethyl acetate, insoluble in petroleum ether, dichloromethane, insoluble in carbon tetrachloride, benzene and water.Storage stability is good, not pollution of the second anti - aging agent.
Usage: this product can be used for natural and synthetic rubber, with other antiaging agents and synergistic effect when applied to sulfur-free vulcanization, can get good heat resistance, also can be used as vulcanization accelerator of neoprene and thermal sensitive agent of rubber materials.At the same time, this product can be used not only for white and light-colored products, but also for all rubber products, but not for food processing.
Package :20kg woven plastic bag, paper plastic composite bag, cowhide bag.
Storage: it should be stored in a cool, dry and well-ventilated place.Package her products away from direct sunlight.Valid for 2 years.