ZL-424
发布于2019-11-08 有418人阅读
Chemical name: hexamethyldisilamide (nitrogen) alkane
CAS NO. : 999-97-3
Molecular formula: C6H19NSi2
Molecular weight: 161.39
Formula: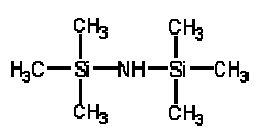 Technical indicators:
Properties: colorless transparent liquid, no suspended matter and mechanical impurities.
Content (%) : ≥99.0
Application: alkaline silane protective agent, inorganic filler treatment agent.
Packing: sealed packing in plastic iron drum, net weight 150 kg.
Copyright @ 2019 HONGKONG V&K INTERNATIONAL LIMITED All Rights Reserved.
皖ICP备19015804号-2
Some pictures, words and fonts are from the Internet. If they are infringed, please contact our website to delete them.