Chemical name: tert-butyldiphenyl chlorosilane
CAS NO: 58479-61-1
Product structure :C16H19ClSi
Structure: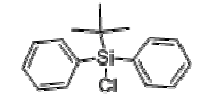 Technical indicators
1. Appearance: light brown or brown oily liquid
2. Boiling point: 120 ~ 125℃(0.06mmhg)
3. Specific gravity: d20=1.07
4, refractive index: n120:1.568
Transport number of dangerous goods :UN 2987 8/PG 2
Safety terms :26-36/37/39-45-8
Main application: one kind of silicon base protection base;Used for the synthesis of pharmaceutical intermediates or other polymers.
Product packaging: fluorinated bottle/plastic bucket packaging, also according to customer requirements packaging.